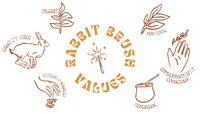 What Rabbit Brush Stands For
Rave On
"The Dry Shampoo of your Dreams!"

For years I have been on the hunt for a dry shampoo that not only
works but is natural AND smells delicious. I will continue to buy this
product for as long as I possibly can <3

Kaylee D.
"My hair care holy grail!"


I love Rabbit Brush's shag spray! It works great on my fine hair
and adds great texture without making my curls stiff. I've tried a lot
of curly/wavy hair products and this is the one I will always
repurchase!

Maranda V.
"Best Dry Shampoo I've used!"


as a lifelong bang-haver, greasy bangs have been something I've
been tackling for years. I've tried many dry shampoo products and
finally decided to try this one and it's by far been the best! plus the
packaging is super cute, so that's an added bonus :)

Makenna S.
"Love Love Love"

Shag spray has changed my life. I have fine, shoulder length hair that was in need of some love after pixie cut and natural gray grow
out. My stylist introduced me to Shag Spray as a daily texture lift and boost. I am so in love. I have tried many other sea salt salt
sprays throughout the years and nothing compares. Plus, the cedar rose smell is so warm and complex and grown up and.... Portland. Every time I use this product I get compliments on the style and smell of my hair!
It's so good. Placing bulk refill order!

Gina L.
In Love


I love this spray so much, the scent is killer and the texture it
adds to my short hair is a nice tousled touch whenever I use it.

Daisy
"I love Shag Spray and I love greener packaging!"


This is a big ol bottle of the amazing Shag Spray so you can
refill your spray bottle and not use as many resources. What's not to
love?

Maggie S.