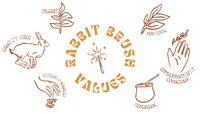 What Rabbit Brush Stands For
Rave On
Stop everything and buy this!!

This. Is. Literally. THE best dry shampoo I've ever used. I'm a
hairstylist of almost 15 years and I swear I tried them all.. this is
the first one that actually works. It doesn't make my hair feel gunked
up; and it smells amazing to boot.

Do yourself a favor and buy this
magical product :)

Alisa V.
Fantastic product


Lovely smell and a game-changing product that makes my hair look amazing

ER
Aromatherapy + Moisture


I bought the lavender hair oil and let me tell you, not only does this work amazing as a hair oil, it also doubles as a mini aromatherapy minute for me.

I live in an extremely dry climate and this oil is a life saver for preventing static, adding shine and providing a
much needed moisture boost on my ends between washes. It's also not too heavy and my hair never has that oily feel or look to it that has happened with other hair oils I've tried.

I will definitely keep
repurchasing this!

Samantha
Great, love it!

I've been trying to wash my hair less, which coincided with a need to up my dry shampoo game.

This stuff is great!

I went ahead and
got it with mica, and it's very subtle, I like it. I have medium blonde/ strawberry blonde hair, and I have been using Fat and the Moon's
cocoa powder dry shampoo sparingly for a few years. It's really too dark for me, so I always had to be careful to use a very small amount. With this one, I don't have to worry so much about the dry shampoo being visible, and I like the formula better as well.

Smells great too!

Piper A.
In Love


I love this spray so much, the scent is killer and the texture it
adds to my short hair is a nice tousled touch whenever I use it.

Daisy
I usually read reviews for hair products and then when I try it, I'm pretty let down.. but not in this case!

I genuinely was surprised at how much of a difference it made & how much better it made my shag look!

Gave volume and texture and is great for refreshing curls! I got the citrus /
sage one and I love the way it smells! I will DEFINITELY be purchasing again.

Georgia S.
Shampoo and Conditioner Bars