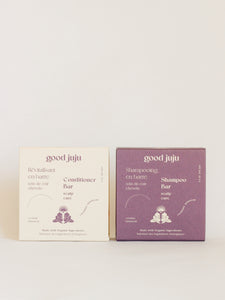 Good Juju Shampoo Bars are formulated for hair of all ethnicities, and safe for color-treated hair
They are super-concentrated, one bar equals roughly three bottles, and lasts up to 75 washes.
Proudly free from SLS, hormone disrupting parabens, and synthetic fragrances or dyes.
Every bar contains this special formulation of three powerful plant nutrients, rich in antioxidants, polyphenols, and anti-inflammatory properties.
Sacha Inchi Oil
Broccoli Seed Oil
Snow Mushroom Extract
These 3 unique oils uniquely work synergistically to penetrate the hair shaft, improving strength and resiliency to styling and environmental damage while coating it for shine and softness like you've never felt before.
The best natural shampoo for itchy or irritated scalp
Detox from hair product buildup, or relieve dandruff and itchy scalp – naturally! Our award-winning Scalp Care Shampoo Bar formula is a combination of all-natural & certified organic ingredients, including innovative plant nutrients that provide relief from irritation and dryness.
Bonus – It's also a great way to keep brassiness away from blonde colour treated hair!
Coconut Oil gently cleanses and nourishes the scalp, helping to reduce dandruff and dryness
Charcoal effectively removes flakes and other buildup on the scalp, and provides antimicrobial support
Aloe Leaf Juice enzymes repair dead skin cells on the scalp, reducing dandruff
Sweet Almond Oil, a Vitamin E rich antioxidant for its nourishing & healing properties
Available in Lavender & Geranium scent. Citrusy, fruity, and floral, these organic essential oils come together to promote calmness and reduce stress and anxiety.
How Do I Use the Bars?
Shampoo
Rub the bar directly onto your wet hair, and gently massage the hair & scalp to form a rich lather then rinse thoroughly.
Conditioner
Just rub the bar directly onto your wet hair, and gently massage through length of hair. Rinse thoroughly.
Good Juju bars can last for as many as 75 washes – depending on hair length and washing frequency. The key to extending the use of your bar is to keep them dry between uses. The best place to store a shampoo or conditioner bar is on a soap dish, so it can drain & air dry properly between uses.
Sensitive Scalp Shampoo + Conditioner Bars